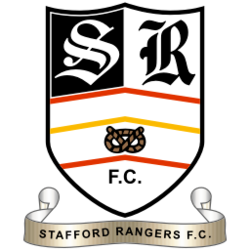 Stafford Rangers
Rangers' formation year is recognised as 1876 because of articles in the local Advertiser newspaper, but an alternative theory on Rangers' formation date, printed in the Sentinel newspaper during 1891, suggests that the club was founded by a Bible class in 1877.
Rangers' early matches were cup games and friendlies, with the club reaching the FA Cup First Round in both 1884–85 and 1885–86. The club then had spells in the Shropshire League, Birmingham League and North Staffordshire League up to the turn of the century, and moved to their current home Marston Road in 1896.
Stafford Rangers Football Club is a semi-professional English football team from Stafford who play in the Northern Premier League Premier Division. The Stan Robinson Suite was named after our founder who was a Director of Stafford Rangers from 2001 to 2004.
Furthermore, under our terms of the new sponsorship agreement with Stafford Rangers the football stadium will become known as the "The Stan Robinson Stadium", recognised by the club as a fitting tribute and wonderful legacy to "Stan the Man" and family, who have supported the club so strongly.